New Arrival: Rare Jack Chambers
---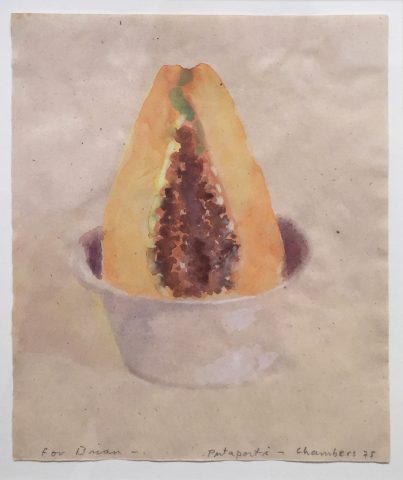 Jack Chambers "Papaya in Bowl", Watercolour, 1975, 6 7/8 x 5 5/8 in.
For pricing & availability click HERE
In 1975, Jack Chambers travelled to Puttaparthi, India, where he became deeply engaged with a guru whose spiritual teachings attracted him. While there, Chambers painted small watercolours of serene landscapes and contemplative still life paintings.
"Papaya in Bowl" is from the collection of artist Brian Jones who was a huge fan of Chambers work and would often help out in the studio. Instead of taking money for helping Chambers, Jones took this intimate watercolour in exchange for his studio services.
"Papaya and Bowl" was included in 2 retrospective exhibitions: "The Last Decade" 1981 and "Jack Chambers Retrospective" 1988, both at the London Regional Art Gallery.